About
Our Story
GeoRiot was born in early 2009, initially as a spin-off from one of the team's many earlier endeavors of creating extreme sports soundtrack websites that used the iTunes Affiliate Program and the Amazon Associates Program. GeoRiot was founded on the basic principle that online marketing should be profitable and accessible on a global scale, but unfortunately back in 2009, it was anything but. In fact, when it came to earning commissions from international sales in iTunes and Amazon, the Internet was simply, broken.
Since then, we've successfully bridged the purchasing gap for iTunes and Amazon and are now furthering our reach to other fragmented storefronts around the globe. Because the online commerce landscape continues to shift and is no longer just fragmentation by country (but now device, operating system, language, and more) we continue to evolve right along with it.
In 2015, we changed our branding from the company name of GeoRiot, to Geniuslink to better reflect that we now solve not only the problem of geo-fragmentation - but fragmentation across all of the ways people can buy products.
Leadership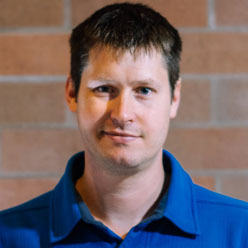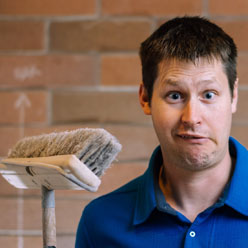 Jesse Lakes
Chief Executive Officer / Co-Founder
Jesse is a Native Montanan and the co-founder and CEO of Geniuslink - or, as he likes to say, head cheerleader. Before Jesse co-founded Geniuslink, he was a whitewater rafting guide, worked at a sushi restaurant, a skate/snowboard shop, was a professional student, and then became the first Global Manager at Apple for the iTunes Affiliate Program. Outside of the office, Jesse enjoys taking his family on adventures and firmly believes that "time you enjoy wasting is not wasted time."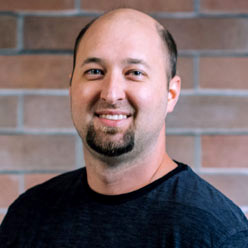 Jesse Pasichnyk
Chief Technical Officer / Co-Founder
Aside from being a co-founder, Jesse is also the Chief Technology Officer of Geniuslink, and makes sure the engineering wheels on the bus go round and round. Originally from Montana, Jesse has been here since day zero and co-founded Geniuslink with Shannon and his best friend, Jesse Lakes. Before co-founding Geniuslink and after graduating from the University of Montana, Jesse was a software engineer at Microsoft. Jesse is an instrument rated private pilot and in his spare time, he likes to fly himself, his friends and his family to fun destinations.
Shannon McGuire
Chief Data Officer / Co-Founder
Shannon was the first full-time Geniuslink team member and now as the CDO, she spends the majority of her time on growth, data, and analytics. Before Shannon co-founded Geniuslink, she was an iTunes Store Engineer, and before that, she was in Aerospace. When she gets out of the office, her family is number one, but she loves pottery, wine tasting and being outdoors.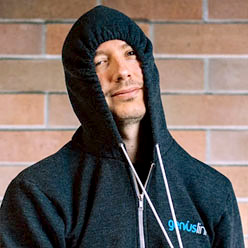 Steven Sundheim
Chief Product Officer
Steven leads product development and helps Geniuslink stay user-centered through design, research and product management. Before Steven joined the Geniuslink Team, he co-founded and exited two tech startups and then spent four years consulting for other companies, which is how he came to know Geniuslink. Steven is from Missoula, Montana where he attended the University of Montana. When he's not designing or talking with Geniuslink clients, you can find him playing soccer, snowboarding, gaming, and spending quality time with his family.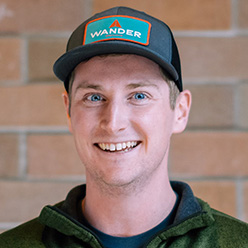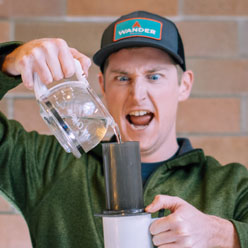 Joey White
Chief Operating Officer
Joey was our first intern and now he leads operations at Geniuslink. He's also the only one in the office who knows how to use the Aeropress. Yet another native Montanan, Joey grew up on a small farm in the Bitterroot Valley, and then worked for a large cattle ranch all through high school and college, until graduating from the University of Montana and joining the Geniuslink Team. In his spare time, he loves to mountain bike, snowboard, rock climb, and hike - basically anything that gets him outdoors and away from the big city.
Our Team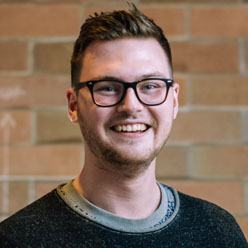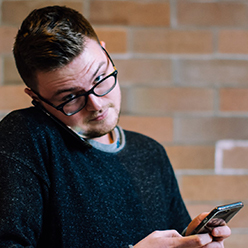 Matt Mustarde
Project Manager
Originally from Marlow, England, Matt's been fielding support questions and serving as our main point of contact for our clients since December 2017. Before he joined the Geniuslink Team, Matt was doing wide-format design and machining, graphics and package design. When he's not supporting our clients, managing accounts or curating reports and analytics, he enjoys VR, 3D modeling, 3D printing, graphic design and being a serial Redditor.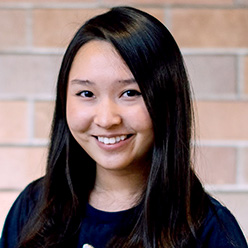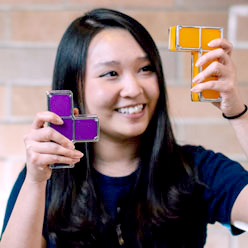 Natasha T. Petrus
Full Stack Engineer
Natasha's main job here at Geniuslink is to make sure things don't break. She writes tests to ensure all the existing code works, making it easy to fix bugs and add new features, with the goal to make testing closer to being 100% automated day by day. From Jakarta, Indonesia, Natasha came to the United States to attend Seattle University. Before joining the Geniuslink Team she worked as a contractor for Microsoft, testing Xbox games in a certification lab just after graduating college in June of 2017. In her spare time, she loves to work on side projects, watch Netflix and eat ice cream.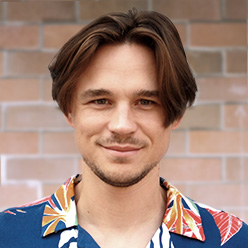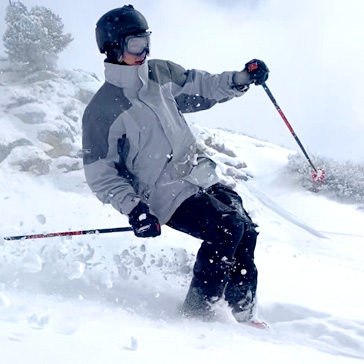 Julian Emond
Client Success Manager
Julian grew up just outside Glacier National Park in the mountain town of Columbia Falls, Montana, where his enduring love for fishing, fly tying, and skiing was born. He brings experience as a content creator, copywriter, freelance marketing consultant, and soccer coach. After earning his MBA at the University of Montana, he joined Geniuslink to help creators earn more from their content. Julian continues to take full advantage of his Rocky Mountain surroundings, working remotely out of Missoula, Montana.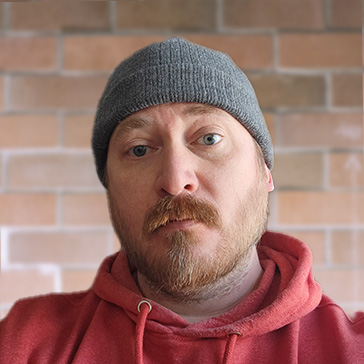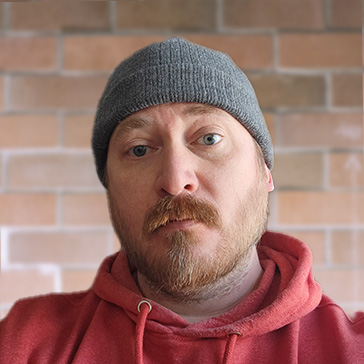 Michael Andrick
Infrastructure Engineer
Michael brings nearly 20 years of experience in systems administration to Geniuslink, with much of that time spent in Silicon Valley. Holding a degree in Chemical Physics from Michigan State, Michael doesn't shy from deep technical topics, and is more than happy to break down multiverse theory for his beloved daughter, Twyla. Michael lives in Haslett Michigan, where he enjoys traveling, camping, cooking, gaming, and sharing dad jokes. Why can't t-rexes touch their nose? Because they're all dead.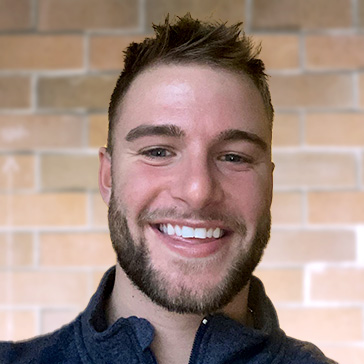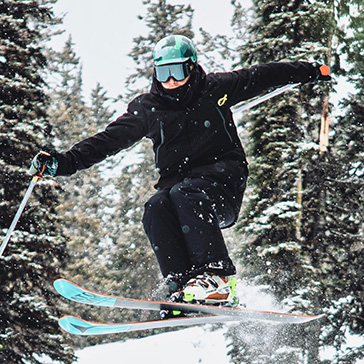 Ezra Snyders
Client Success Specialist
Ezra worked in both public relations and ecommerce before joining the team at Geniuslink, where he helps our clients earn the most from their content. He holds a degree in Marketing from the University of Montana and worked as a bartender throughout his schooling. Living in Missoula, Montana, he prizes the close ties to his family while staying active in sport, adventure, and learning. Ezra can be found battling his dad at golf over Summer weekends and carving the local ski mountain in the Winter.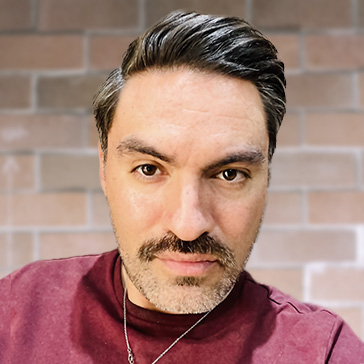 Alejandro Castanon
Client Success Specialist
Alejandro's professional career holds rich and varied experiences, from serving in the US Air Force, earning a degree in Marketing from Arizona State University, to running an art gallery for eight years. His recent position as a Certified Business Advisor lends itself well to his role at Geniuslink, where he helps creators at Geniuslink maximize their earnings. Alejandro continues to express his artistic side, creating beautiful acrylic works of art in San Angelo, Texas, where he lives with his wife Shelby.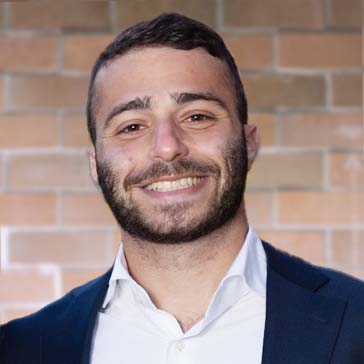 Austin Tuwiner
Senior Growth Manager
After studying software engineering in college for two years, Austin became a full time entrepreneur when his first business began taking off. In the years since, he has started and sold multiple businesses including content-driven web properties and an affiliate analysis tool. Today, Austin helps Geniuslink reach more creators, deploying the expertise he has developed in SEO, affiliate marketing, and content creation. Austin lives in Miami Florida, where he can be found scuba-diving, fishing, or spending time with friends.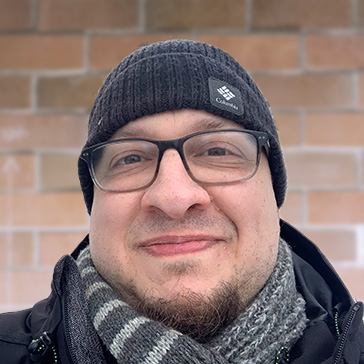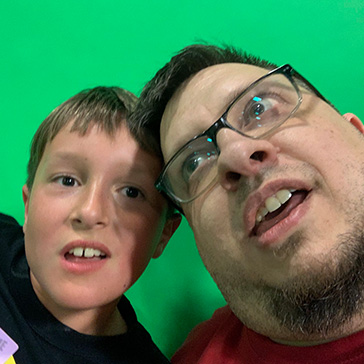 Matthew Dean
Senior Frontend Engineer
Matthew loves nothing more than directly improving the user experiences of people using web products. With over 20 years in frontend web development, he has developed a powerful skill set in developing elegant web experiences and ensuring applications employ a cohesive design language. Matthew works out of Vancouver, British Columbia, where he enjoys staying close to his family and seeing live performances that showcase "people being awesome".
Our Mission
Improve the online commerce experience for both consumers and promoters through offering an intelligent links that works, simply.
Our mission is twofold.
We're raising awareness of the fact that every day, Internet marketers, app developers, book publishers and authors, record labels and global brands are unknowingly losing sales and customers to broken links, error messages and poor user experiences.
We're challenging the outdated notion that you use a link with a single destination for your entire audience across devices, countries, and operating systems.
The best part?
Our service is focused on liberating your lost sales due to "dumb" links. Your clients will riot (with joy) at the experience they get with your links, and we predict Zen-like peace and calm as you come to realize your marketing campaigns are more profitable than ever, that you're a part of a paradigm shift in online marketing, and you're helping to overturn one of the biggest problems facing the industry in the last decade.
Geniuslink - making the Internet a better place, one click at a time.