As we alluded to in the prior chapter, one of the key optimizations -- practiced across the board -- is to expand past using a single Amazon affiliate program to concurrently using many of the regional affiliate programs. Traditionally, Amazon links are static and send everyone, no matter where they are from, to the same destination. So there is some work involved getting past this, but working through the setup has two major benefits.
First, and most importantly, is around an improved user experience for your international community. By sending them to the correct product but in their local Amazon storefront, they can take advantage of their Prime membership, can transact in their local currency, should receive the product faster via local shipping, and having the process in their native language should reduce the friction in the whole buying process. This improvement in the buying experience not only helps in the financial aspects, discussed next, but should also help you continue to grow your international audience.
Please note, however, that just signing up for an international Amazon affiliate program won't magically make your links work. (More on that in a minute.)
The second major benefit is financial. By moving to an "intelligent" Amazon affiliate link, one that sends foreign shoppers to the right product in their local Amazon storefront, you should also see an increase in your conversion rates, your earnings per click, and ultimately your total revenue.

This happens because the international shoppers who you were sending to your local storefront (say your UK shoppers getting sent to Amazon.com) had a significantly lower chance of converting due to the items we outlined above. However, by sending your UK shoppers to the correct product in Amazon.co.uk, the Amazon storefront specifically optimized to support shoppers in the UK, you'll see a much higher conversion rate.
Is your audience international?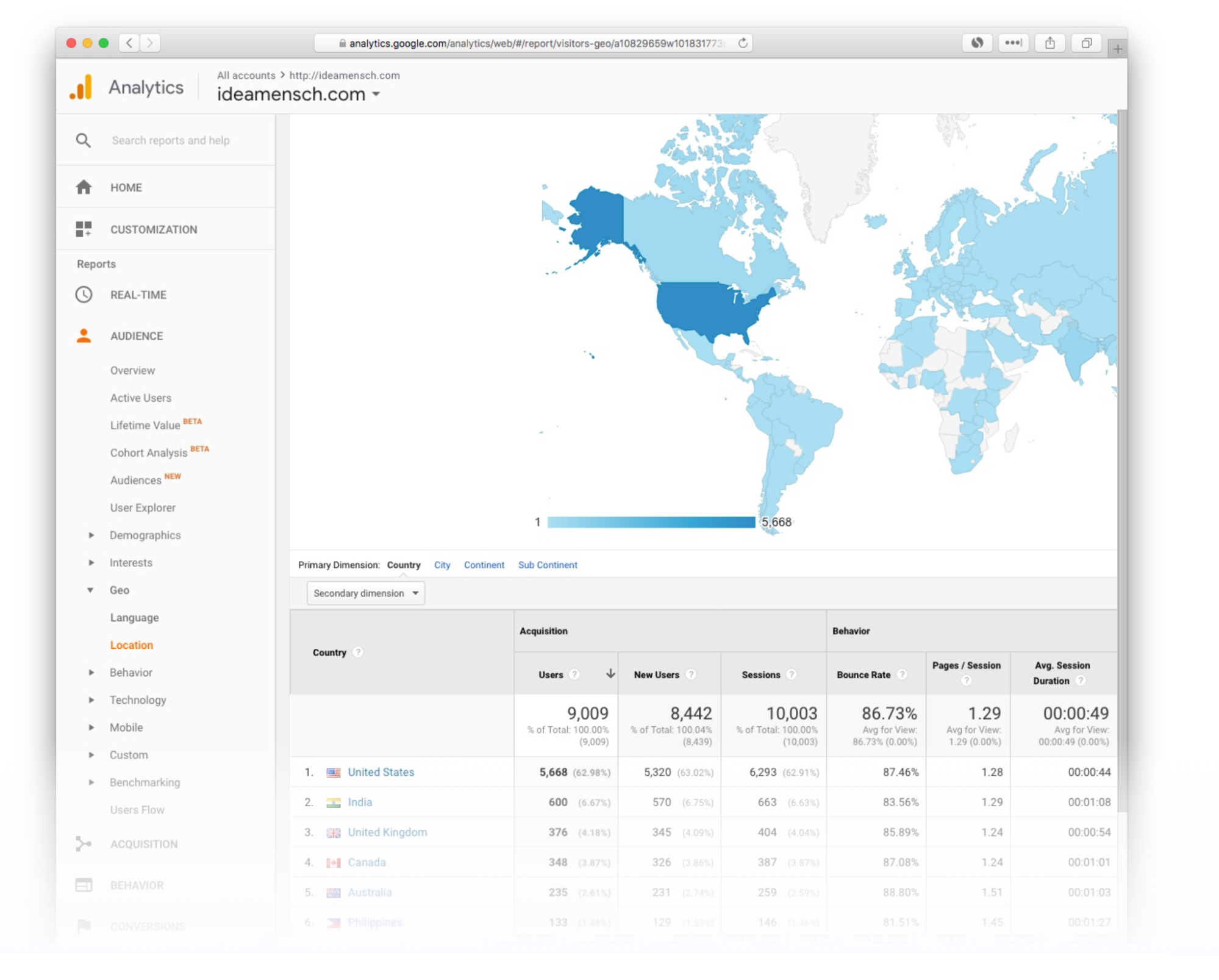 Many of us don't realize how diverse our traffic is after spending all of our time in the weeds creating content, working on SEO, building affiliate links, etc. As a result, I would encourage you to take a moment right now and check your site or channel analytics. Every analytics package I've ever seen has a geographic breakdown, and I encourage you to find and review that right now. As you look at it, you have two questions to answer.
How much of my traffic is domestic and matches the Amazon store and affiliate program I'm currently using?
How much of my traffic is international? And more specifically, what are my top five international countries?
If your international audience is less than 10% of your total, then I'd encourage you to just jump to the next section.
However, if it's more than 10%, then please keep reading. We've found that for every 10% of international traffic you get, when you localize your Amazon affiliate links you'll likely see your total revenue increase by 5%. For example, if your site or channel had 50% international traffic and you were making $1K a month from Amazon.com commissions, then localizing your Amazon affiliate links should add another $250 to your total revenue. This brings you up to $1,250 a month in commissions with no additional work or traffic. This $250 is essentially "found money" or money that was previously just "left on the table!"
International Amazon affiliate programs
As of this writing, there are now 16 public Amazon affiliate programs -- and one that is currently private -- spread across the world. In addition, we see new Amazon storefronts and their corresponding affiliate programs launching approximately every six months.
The international Amazon affiliate program landscape currently includes:
Americas
United States: Amazon.com/Amazon Associates: https://affiliate-program.amazon.com/home
Canada: Amazon.ca/Amazon Associates: https://associates.amazon.ca
Mexico: Amazon.com.mx/Amazon Afiliados: https://afiliados.amazon.com.mx
Brazil: Amazon.com.br/Associados Amazon: https://associados.amazon.com.br
Europe
United Kingdom: Amazon.co.uk/Amazon Associates: https://affiliate-program.amazon.co.uk
Germany: Amazon.de/Amazon PartnerNet: https://partnernet.amazon.de
France: Amazon.fr/Club Partenaires Amazon: https://partenaires.amazon.fr
Spain: Amazon.es/Amazon Afiliados: https://afiliados.amazon.es
Italy: Amazon.it / Programma Affiliazione Amazon: https://programma-affiliazione.amazon.it
Netherlands: Amazon.nl / Amazon PartnerNet: https://partnernet.amazon.nl
Turkey: amazon.com.tr / Amazon Gelir Ortaklığı: https://gelirortakligi.amazon.com.tr
*The affiliate program for Turkey is currently private and requires an invite.
Asia
Japan: Amazon.co.jp / アソシエイト(アフィリエイト: https://affiliate.amazon.co.jp
India: Amazon.in / Amazon Associates: https://affiliate-program.amazon.in
China: Amazon.cn / Amazon Associates: https://associates.amazon.cn
Singapore: Amazon.sg / Amazon Associates: https://affiliate-program.amazon.sg
United Arab Emirates: Amazon.ae / Amazon Associates: https://affiliate-program.amazon.ae
Oceania
Australia: Amazon.com.au / Amazon Associates: https://affiliate-program.amazon.com.au
Where to start (and which Amazon affiliate programs to avoid)
The first Amazon affiliate program you should start with should be where you thought the bulk of your audience was going to be coming from, likely where you are based. Now, your goal is to sign up for additional international Amazon affiliate programs where you see significant traffic. This will likely be slightly different for everyone, however, this is the typical game plan one might use.
Most of our clients start with Amazon.com because they are either US-based or their audience is primarily US-based.
Next is typically Canada (amazon.ca), followed closely by Amazon.co.uk (UK). These represent the English-speaking countries with the largest Amazon stores (Amazon.com.au / Australia is English speaking but a smaller and much newer storefront).
A trick when signing up with the Amazon UK program is that after you've finished the process, you can automatically apply the same information to four additional programs in Europe: Germany, Italy, France, and Spain. This makes the sign-up process significantly faster and when factored in with Canada and the original Amazon.com / US program gives you seven affiliate programs that often cover the bulk of your international audience.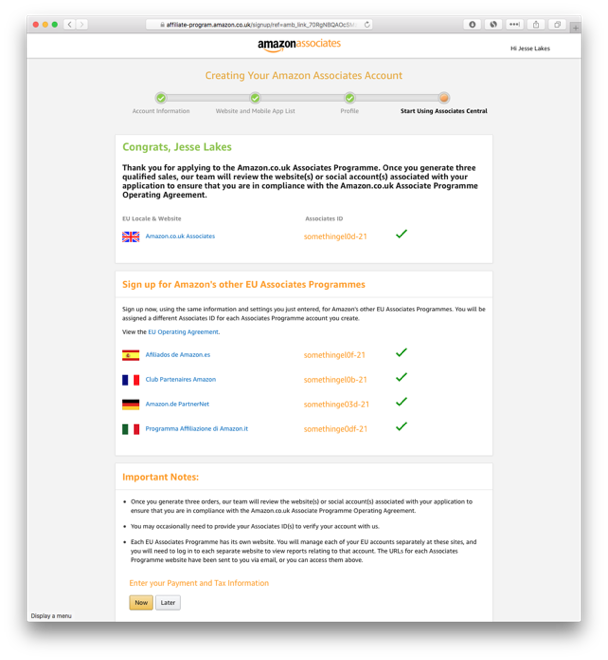 Each of these programs (US/Canada/UK/France/Germany/Italy/Spain) offer commission payouts via direct deposit to a number of countries.
The next affiliate programs typically sought include Amazon.co.jp (Japan) and Amazon.com.au (Australia). With the more recent launches of affiliate programs for Amazon.ae (UAE), Amazon.sg (Singapore), and amazon.nl (Netherlands), we'd bucket those here as well.
The affiliate program for Amazon.in (India) is a bit tricky as it doesn't currently provide international payments. We recommend to our clients that if they have a sizable audience from India, sign up with Cuelinks to access the Amazon.in program. Cuelinks can then help deal with the taxes and fees for making international payments for your Amazon.in sales.

The Amazon.cn (China) storefront and affiliate program hasn't received much attention in the last couple years and we guess that it won't in the future so we don't recommend putting much focus there.
The Amazon.com.mx (Mexico) and Amazon.com.br (Brazil) affiliate programs are similar to India in that they don't currently make international payments. So unless you live there, or know someone who does and is okay with you using their local bank account, then we typically recommend avoiding these programs as you can earn commissions internationally but won't be able to be paid for your referrals.
The Amazon.com.tr (Turkey) affiliate program is currently set to private and requires an invitation to participate.
While getting signed up for the international affiliate programs can be a bit of work, each program uses the exact same form so each one shouldn't take more than 10-20 minutes.
Intelligent links
Getting signed up is only part of the battle. You are ready to earn commissions from referrals to each of the storefronts, so now you need to drive sales!
The most basic way to do this -- and what we DO NOT recommend -- is for each product you recommend, adding all of your regional Amazon affiliate links and having the consumer decide. First, this creates friction in the buying process for all of your consumers, and we often see that conversion actually decreases across the board. It's also ugly and just plain bad UI!
Instead, we strongly recommend using a tool specialized in exactly this -- sending every click to the appropriate product in the Amazon storefront that is local for the shopper clicking the link. There are two major options for this type of tool, in addition, a number of Amazon affiliate-focused Wordpress plugins that provide simplistic versions of this service.
Amazon OneLink
Amazon introduced a solution to it's "geo-fragmentation" challenge in July 2017 via a javascript based tool. Initially just supporting the translation of amazon.com links to amazon.ca and amazon.co.uk, the tool later that year expanded to also support amazon.de (Germany), amazon.fr (France), amazon.es (Spain), amazon.it (Italy), and amazon.co.jp (Japan).
Highlights of the OneLink tool is that it is offered for free by Amazon, and it's product translation is fairly robust, especially in comparison to the other tools that existed in the space at launch.
Unfortunately, the OneLink tool has some significant downfalls including:
Ad block - OneLink is on all of the major ad blocking lists which regularly keeps international shoppers from being redirected to their local storefront.
Javascript based - Being purely javascript based limits OneLink to only working on your website (where you can install the JS correctly) and the JS is regularly blocked by shoppers using an ad-blocking extension.
Supported storefronts/affiliate programs - OneLink only works with Amazon.com links (or amzn.to links that were built from amazon.com) and can only translate to seven of the 17 total Amazon storefronts.
Geniuslink
One of the original "Intelligent" link management tools, we started supporting the Amazon affiliate program with auto-affiliation and link localization in mid 2013 after adapting our patented link translation process to support the multi-faceted retailer. In the last seven years, we've continued to improve on the service and link translation and are now the premium provider and largest independent Amazon affiliate link management platform. The Geniuslink service is used by many thousands of Amazon affiliate publishers, creators, and influencers of all sizes.
While we might be biased, the biggest complaint of Geniuslink is typically that it has a monthly fee, based on usage.
In comparison to OneLink, Geniuslink really shines.
Product Matching Accuracy - Geniuslink goes to the correct product in an international Amazon storefront significantly more often. This better translation allows for higher conversion and commission rates (Amazon pays a lower commission for search-based affiliate links in the European programs).
Link Customization - With OneLink, you are stuck with their international destinations, even if they are wrong. With Geniuslink, you have complete control over how a link functions, allowing you to fully customize the performance.
Coverage - OneLink can only translate Amazon.com links to six other storefronts. Geniuslink can translate most any Amazon link, regardless of which storefront it originated at, to most any Amazon store. The few exceptions are for the most recently added storefronts and affiliate programs, but those should be supported soon.
Implementation - While OneLink is purely Javascript-based, Geniuslink also offers a Javascript solution. However, a Wordpress plugin, API, and Chrome Extension also are offered in addition to the Geniuslink dashboard where short links can be built and fully customized. These short links can then be shared anywhere, including social media (where OneLink cannot).
Service Customization - Geniuslink offers support for using multiple tracking IDs, marking links that shouldn't be translated and other various ways to customize the service for your specific needs OneLink doesn't provide.
Next Steps
Regardless of the link management tool you choose, after signing up for the international Amazon affiliate programs that correspond with your top five countries, decide on the intelligent link management service that works best for you. It's important to implement the service then test your links and watch your reports (and check for those international commissions to start coming through) to ensure everything is working correctly.