Case Study: Granger McCollough
A Choice Page success story: Granger McCollough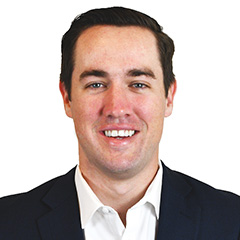 "Wherever possible now, I use a Choice Page."
In April 2020, Granger got the news every affiliate dreads: Amazon was slashing their commission rates from 8% to 3% in the "home" product category he promoted. Granger had left his full-time job to focus on his niche website business, and he needed to make some big changes to preserve it.
Back in 2017, Granger had a comfortable job working in finance at an energy trading firm in Houston. His boredom at work led him to explore other professional endeavors with more freedom, and he found himself drawn to the affiliate website business model. Within two years, his efforts at building product review websites were paying off.
"After a couple of years of learning, making mistakes, and all that good stuff, it got to the point where I could leave my job and do the website thing full-time. I was spending 10 to 15 hours a week maximum on the website building, when I was spending 50 hours a week on my day job. It got to the point where the dollars-per-hour was actually better on website building."
With his finance job behind him, Granger was able to devote all his time into building and optimizing his affiliate sites, and one of those optimizations was monetizing his international traffic. He tried using Amazon OneLink, but was left unsatisfied with its performance and lack of support for countries like Australia.
"I did speed tests and when I installed OneLink it basically made my sites load 20% slower. It also didn't support all the countries I needed. I read around and I liked the way Geniuslink recommended products. It seemed like Geniuslink actually did a better job of getting a substitute. At the time Geniuslink was like $10 a month and I was like, 'Well, this is gonna completely pay for itself.' So I gave it a try and it worked really well. At a minimum, I was making between $70 and $100 a month from Australia traffic. That alone was enough [to choose Geniuslink over OneLink], and it seemed like there was a boost in Canada and the UK. Plus my site speed went back to where it was."
With Geniuslink, his affiliate revenue was flowing nicely from all corners of the globe and his business was providing a good income. Everything was working according to plan until April 2020, when Granger read that Amazon was cutting his commissions by over 60%.
"I think there were a lot of people who were frustrated at the situation, and that's part of relying on Amazon for income. [Amazon] can kind of do whatever they want. But, you know, the first thought I had was 'alright, well screw Amazon, I'm sending all this traffic to the brands.'"
The products Granger reviewed on his affiliate site were sold directly by the manufacturers. In many of these "brand" stores, the commission rates were three times higher than Amazon's slashed rates. Granger combed through his sites, replacing Amazon links with links to the brands product stores.
Unfortunately for Granger, his new links didn't help his bottom-line. In fact, after trying the new link for two months, his earnings-per-visitor were slightly less than he would have earned under Amazon's new, lower fees.
"I think people, myself included, realized that the Amazon Associates program was still a very viable program even with the cut rate, because it converts so well and you could have someone go to Amazon and buy something completely unrelated [to the product you are recommending]."
"I had this thought that there are people out there who don't care about buying straight from the brand, and it's probably better to send those people to Amazon. And then there are people who have already made up their mind and are more apt to buy directly from the brand. At this point, I had known that Geniuslink had Choice Pages, and decided to give it a try."
Following Granger's theory, he had two types of visitors: Those who preferred Amazon and those who preferred to shop at the brands directly. Choice Pages could help him to capture revenue from both. So, he again combed through his links, this time replacing each one with a link to a Choice Page. And on each Choice Page, he presented two links: one to buy on Amazon and one to buy on the product brand store.
After nearly two months of using Choice Pages, Granger looked at his earnings and got even more than he had hoped for. His Amazon earnings-per-click (EPC) actually improved over what they had been before, and his direct-to-brand links held at the same level. In other words, he was capturing significant revenue from both types of shoppers, without diluting sales from either group.
Granger says he sees about 70% of shoppers choosing to shop at Amazon and 30% who prefer the brand stores. So when he switched away from linking only to the brand stores and started using Choice Pages, his earnings-per-click to the brand stores skyrocketed by 10x, from eight cents to eighty, as the Amazon shoppers chose the Amazon store button. Overall, just by using Choice Pages to capture commissions from both stores, Granger's overall affiliate revenue improved by 40%.
"It's crazy how simple it is. But that's how I use Choice Pages and it's gone really well. "
Before trying Choice Pages, Granger assumed they would add friction to the buying experience or would be a pain to build. Now, he uses them everywhere, and has even found some hidden advantages.
"The thing I really like too about Choice Pages is that Amazon's terms of service prohibit you from using links on images to link to Amazon products unless it comes from their API, and the photos that they have on their site aren't the best a lot of times. So with Choice Pages I can [link to the Choice Page with my own images]. So maybe that had some kind of a soft improvement, too."
Between the revenue boost, increased flexibility, and better shopping experience, Granger has made Choice Pages part of his primary affiliate strategy for the foreseeable future.
"Wherever possible now, I use a Choice Page."
------
In addition to running several niche product websites, Granger McCollough has started an online resource for entrepreneurs at https://axiomoneinv.com and can be reached at granger@axiomoneinv.com.