Jobs
Jobs at Geniuslink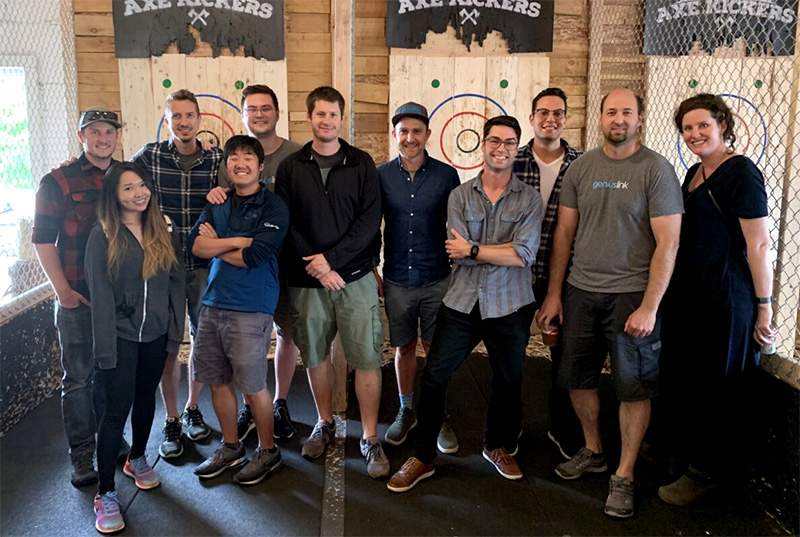 The Geniuslink Team is pioneering change in the global e-commerce industry. Our founding team, formerly of Apple and Microsoft, is leading the charge and we're looking for smart, hard-working, creative minds to help us transform the affiliate marketing landscape for creators, publishers, and retailers.
What are we looking for?
Here at Geniuslink, each of us is passionate about kicking butt at whatever we are working on, and having fun doing it. We honestly love what we do and don't believe in doing it any other way. We're looking for people who are passionate about learning, have strong communication skills and a sense of humor. We're a small, cross-functional, and agile team.
No commute necessary
In 2020 we embraced a full-time remote-work policy for all employees. We are proud to provide our team with more freedom to maintain a healthy life balance, while staying tightly connected through our virtual office and occasional social events.
Join the team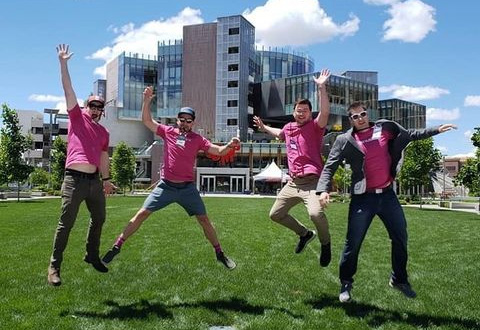 Think you have what it takes to help shake up the Internet with us? We are a small, dedicated team who likes to work hard and play hard. Your engineering chops are important, but so is your attitude, work ethic, and interests outside of work.
Drop us a line to tell us a little about your background and why you're interested in joining the team.
Current Openings
Software Engineer
Geniuslink
We are a small, bootstrapped Seattle-based company established in 2009, on a mission to disrupt the e-commerce and affiliate marketing landscape and offer a level playing field for retailers and marketplaces. Geniuslink works with some of the biggest YouTubers, podcasters, gamers/streamers, and brands in the world to help boost sales and engagement using intelligent links.
The team
We are a tight-knit and hard working team that prides itself in creating a supportive work environment, helping each team member excel and be their best selves.
The Job
We are a small team, so you will be involved in all aspects of software development from designing and implementing the powerful APIs and algorithms that power our services to creating beautiful client-facing features in our dashboard. Unlimited opportunities exist to grow personally and professionally. Although software engineering tasks will be your first priority, you can get your hands dirty in any aspect of the company that you are passionate about. You have the opportunity to be a part of everything. :)
Communicate and coordinate with the business team to gather feature requirements that empower creators and publishers in the influencer/affiliate domain.
Create scalable MassTransit microservices delivering near-real time data that fuels insights to clients about link performance.
Communicate and coordinate with other engineers to design, create, test, and deliver ServiceStack APIs and component based web features to clients using C# and TypeScript.
Location
Remote
: Our team moved to 100% remote in spring of 2020 and we've officially closed our physical office, so this will be a remote working position. Candidates from Washington state or Montana are preferred. In the future, we plan to get together from time to time and being (easy) driving distance from Seattle or Missoula would be a plus.
Our ideal candidate
Bachelor's degree (Computer Science or a related field) or equivalent combination of education and experience.
Minimum two years of experience with strong knowledge of OOP, software design patterns, and DRY/SOLID concepts.
Minimum two years of experience coordinating with a team to deliver applications.
Minimum two years of experience designing and creating scalable, efficient, and testable middle-tier applications.
Minimum one year of experience designing dynamic schemas with NoSQL databases and/or relational databases.
Minimum one year of experience testing software and web applications (unit testing, manual testing, and automated testing).
Nice to have
DevOps experience working with continuous delivery systems.
Experience with Message Based Architecture with MassTransit / RabbitMQ.
Experience with MongoDB.
Experience creating web APIs with ServiceStack.
Experience with Scala / Java.
Experience creating SPAs with VueJS or AngularJS.
Our stack
Below is a list of some of the technologies you will encounter and have an opportunity to learn. Familiarity with all of them is not required.
C# / .NET / .NET Core
MassTransit / RabbitMQ
MongoDB / MariaDB / PostgreSQL/ Redis
Docker
Consul / Nomad / Vault
Terraform / Ansible
KnockoutJS / VueJS / AngularJS / TypeScript
Compensation
$75,000 - $105,000 DOE
Medical, dental, and vision insurance (we pick up half the cost)
8 Paid holidays
96 hours PTO per year, plus 8 hours per year of employment
Paid volunteer day once a quarter
Donation matching program
Stock options
Rotation of tickets to the Seattle Sounders home games
Oculus Quest 2 VR set (see "Team Events")
The Geniuslink Family
Geniuslink celebrates diversity and values an inclusive workplace and culture.
Flex Fridays: Work-life balance is important to us. Since the COVID-19 pandemic we have reexamined how and when we work. We are currently experimenting with a flexible four or five day work week. The result has been that many members of the team have shifted to work longer days Monday - Thursday, with shorter days on Friday or starting the weekend a day early. For those who prefer a 5-day week, you should have some quiet, focused time to wrap things up for the week on Fridays.
Team Events: We believe it is important to celebrate our accomplishments. Past events have included painting classes, BBQs, bowling, and axe throwing. Due to COVID-19, team events have changed with social distancing in mind. Recent events have included an online paella cooking class with a world class chef, a virtual escape room/trivia night, as well as a cocktail making class. In January 2021, Geniuslink bought the team Oculus Quest 2 headsets, and VR game nights have also been a fun way to connect while we're all physically separated this year.
Apply
We are passionate about what we do. If you're interested in being part of the Geniuslink family and seeing why we are so motivated to come to work every day, shoot us an email (jobs@geni.us) with your resume, a short note about your professional experience and aspirations, and most importantly tell us about your favorite hobby.